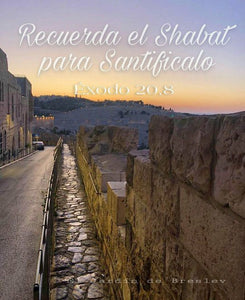 A unique Shabbat in history
Look at this message that has been circulating in recent days here in Israel ...
In Israel, this next Shabbat there will be no: Public transport, vehicles, restaurants, bars, clubs, cinemas, no store will be open, nor will it be possible to go to the sea to play ball or rackets as usual.
It will be a pure Shabbat, where all the families in Israel will gather at the table of their home to celebrate the three meals and nobody rushes, because there is nowhere to go!
For the first time, Jews who do not observe Shabbat will have the experience of feeling the pleasure of a Shabbat!
See how the Blessed Creator controls the entire world!
A small virus that can barely be seen under the microscope messed up the whole world, but it also ordered everything for a Shabbat.
Everything is controlled from Heaven, to the bats of China that were the messengers of the Blessed Creator to show us the infinite power of him.
Even the politicians of Israel who are against the Jewish religion will have to stand still on this Shabbat, because according to the order of the state court and the Knesset they will have to keep the entire Shabbat.
Well, not even the great high court will help because they too will have to keep Shabbat.
Dear Jewish brother, look around you and analyze everything that is happening, it is no coincidence that the entire state will keep Shabbat like never before and in the strictest way, there are no coincidences, everything is directed by the Creator Blessed!
Shabbat Shalom, blessings and health for all Israel and all humanity.
May we see the Redemption very soon!
---