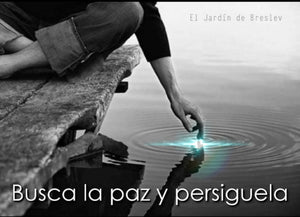 Did you know that Peace brings healing?
"Seek peace and pursue it" (Tehilim 34-14)
The word Peace in Hebrew is Shlom (shalom) and has the same root of "Shlem" (shalem) which means complete! When there is Shalom it is a sign that we are "complete"
The culture we live in is full of words, the media constantly spits out words, and yet the only way to develop your true depth is by learning to be silent.
In a world that is full of verbosity, you have to learn silence. In a world full of noise there is no place for thought, nor the real understanding of things.
You have to develop the ability to find a serene place in your mind, so that you can get in touch with the person that you are and as a result you can contact the Creator, because only in real silence can you really understand.
Only he who is silent is capable of listening, and only silence is capable of harboring profound knowledge.
Recommendation:
Try in any way to "steal" time from your day and your activities to seek that moment of silence, because if you wait for that moment to come by itself, it will never come!
Look for that moment of silence, in which you can put your ideas in order, identify what you are doing wrong, contact the Blessed Creator and ask Him to show you and allow you to see your mistakes and faults and that is what "the Creator does not like about you"
He will answer you and you can begin a "purification" that will make you feel lighter.
Then ask Hashem for strength to be able to change those negative points.
Do it, and you will feel less burdened, with more health, and soon you will see great miracles in your life!
The Garden of Breslev recommends:
---