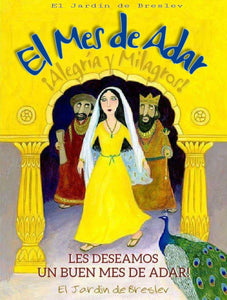 Learn more about the month of Adar
The tomb of Esther and Mordechai, Hamadan, Iran.

On Wednesday February 26 we start the Hebrew Month of Adar.

This month of Adar is characterized by increasing Joy and Unity among the Jewish people. Also, this month we celebrate Purim! (On the 14th of the present month of Adar).

Our great Sages teach that on Purim through Joy and dance we become worthy to receive the Torah in its two aspects "the revealed and the hidden".

For the great revelation that occurred on "Purim" through Mordechai and Esther, was the "Reception of the Torah" With this we can properly fulfill the Mitzvah of the counting of the Omer. (The counting of the days that we carry out until we reach Shavuot "Day of the giving of the Torah")

The klipá (shell) of Haman the Amalekite is destroyed, (may his name be erased), it is the forces of pride, idolatry, and atheism break, and great Faith, Sacred Wisdom, and true long life descend into the world, harsh judgments are sweetened, and decrees against Israel are revoked.

Purim is also a great preparation for Passover!

We wish you a happy and successful Month of Adar and may we together increase the Joy to its highest point in this Purim feast! < br>
"Soon we will have more information for you about this great holiday," The great miracle of Purim ".

The Garden of Breslev🔥Lighting the world 🌎 with Emuna.
---