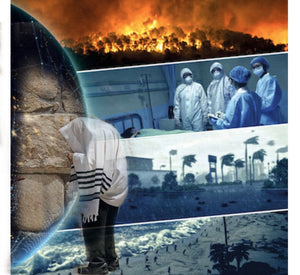 Prayer for healing and protection
Powerful prayer to bring healing and protection.
(Since ancient times there have been great promises for those who recite the Pitum ​​ha Ketoret)
Prayer:
"May Your will be our Gd and Gd of our ancestors, so that You fill all the inhabitants of the world and the inhabitants of this earth with mercy, and protect them from all the harsh and evil decrees that may visit the world and rescue us from all diseases, illnesses, plagues and epidemics. May all patients infected with the disease be completely cured.
For you, Gd, there is Greatness and Rigor, Splendor and Eternity and Majesty, because everything that in heaven and earth individually grants you the Kingship and Authority, and in your hands is the soul of all the living and the spirit within the flesh, and it is in your Power and Strength to grow and strengthen and heal humanity
to the fullest, to the tiniest reaches of the spirit, and nothing is beyond Your Ability. Therefore, may it be Your Will, Faithful G-d, Father of Mercy, Healer of all ills among His people Israel, You who are the Faithful Healer: Send healing and heal, and act with the greatest kindness, forgiveness and compassion to all patients infected by this disease. Please, Gd, may Your Mercy be on all the inhabitants of the world and on all Your People Israel. Please arise from Your Throne of Judgment and sit on the Throne of Mercy, and go beyond the letter of the law to abolish all harsh and evil decrees.
'And Pinchas got up and prayed and the plague stopped'. And decree on us good judgments, salvation and consolation by Your Mercy, and destroy our evil decree, and let our good points matter before you. Arise, help us and redeem us for Your goodness.
Now please listen to the voice of our supplication, because you hear the prayers of all. Blessed is He who hears prayer.
May the utterances of my mouth and the reasoning within my heart find favor before You, Lord, my Rock and Salvation.
And that the verse of Mikra that says: 'Do not
be fulfilled within us
I will send none of the plagues that I sent to the Egyptians, because I am the Lord, Your Healer ', Amen.
Tehillim - Psalm 130:
שִׁיר הַמַּעֲלוֹת מִמַּעֲמַקִּים קְרָאתִיךָ יְהֹוָה
1. SHÍR HAMMAÄLÓT MI MAÄMAKKÍM KERATÍJA ADO-NÁI
«Gradual chant». From the depths, oh Lord, I have cried out to You.
אֲדֹנָי שִׁמְעָה בְקוֹלִי תִּהְיֶינָה אָזְנֶיךָ קַשֻּׁבוֹת לְקוֹל תַּחֲנוּנָי
2. ADO-NÁI SHIMÄ BEKOLÍ TIHIÉNA ÓZNEJA KASHSHUVÓT LEKOL TAJANUNÁI
Lord, hear my voice! Let your ears listen to the voice of my supplications.
אִם־עֲו‍ֹנוֹת תִּשְׁמָר־יָהּ אֲדֹנָי מִי יַעֲמֹד
3. IM-ÄVONÓT TISHMOR-IÁ´H ADO-NÁI MÍ IAÄMÓD
Lord, if You took into account iniquities, who, oh my Lord, could remain?
כִּי־עִמְּךָ הַסְּלִיחָה לְמַעַן תִּוָּרֵא
4. KÍ-ÏMMEJÁ HASSELIJÁ LEMÁÄN TIVVARÉ
But in You there is forgiveness, so that You may be feared.
קִוִּיתִי יְהֹוָה קִוְּתָה נַפְשִׁי וְלִדְבָרוֹ הוֹחָלְתִּי
5.KIVVÍTI ADO-NÁI KIVVETÁ NAFSHÍ VELIDVARÓ HOJÁLTI
I hope in the Lord; my soul waits in him, and in his word I have my hope
נַפְשִׁי לַאדֹנָי מִשֹּׁמְרִים לַבֹּקֶר שֹׁמְרִים לַבֹּקֶר
6. NAFSHÍ SIDE-NÁI MISHSHOMERÍM LABBÓKER SHOMERÍM LABBÓKER
My soul waits for my Lord more than sentinels for the morning; more than the watchers in the morning.
יַחֵל יִשְׂרָאֵל אֶל־יְהֹוָה כִּי־עִם־יְהֹוָה הַחֶסֶד וְהַרְבֵּה עִמּוֹ פְדוּת
7. IAJÉL ISRAÉL EL-ADO-NÁI KÍ-ÏM-ADO-NÁI HAJÉSED VEHARBÉ ÏMMÖ FEDÚT
O Israel, wait on the Lord, for in the Lord there is mercy, and in Him there is abundant redemption.
וְהוּא יִפְדֶּה אֶת־יִשְׂרָאֵל מִכֹּל עֲוֹנוֹתָיו
8. VÉHU IFDÉ ET-ISRAÉL MIKKOL ÄVONOTÁV
For He will redeem Israel from all his transgressions.
Pitum ​​Ha Ketoret
(Read all Ketoret three times)
TEFILÁT PITTÚM HAKKETÓRET - THE PRAYER OF THE INCENSE MIX
אַתָּה הוּא יְהֹוָה אֱלֹהֵינוּ, שֶׁהִקְטִירוּ אֲבוֹתֵינוּ לְפָנֶיךָ אֶת קְטֹרֶת הַסַּמִּים בִּזְמָן שֶׁבֵּית הַמִּקְדָּשׁ קַיָּם, יהור צִוֹתָםיעַל, יהור צִוֹתָםיעַל, יהור צִצִוּיעַל, יהור צִוֹתָםיעַל
ATTÁ HÚ ADO-NÁI ELO-HÉNU, SHEHIKTIRU AVOTÉNU LEFANÉJA ET KETÓRET HASSAMMÍM BIZMAN SHEBBÉT HAMMIKDÁSH KAIÁM, KAASHÉR TZIVVITA OTAM ÄL-IÁVIATÚD MOSHVET1>
You are the Lord our Gd, before whom our ancestors burned the incense of spices in the time when the Holy Temple existed, just as You ordered them through Your prophet Moses, as it is written in Your Torah .
וַיֹּאמֶר יְהֹוָה אֶל-מֹשֶׁה, קַח-לְךָ סַמִּים, נָטָף וּשְׁחֵלֶת וְחֶלְבְּנָה סַמִּים וּלְבֹנָה זַכָּה, בַּד בְּבַד יִהְיֶה: וְעָשִׂיתָ אֹתָהּ קְטֹרֶת, רֹקַח מַעֲשֵׂה רוֹקֵחַ, מְמֻלָּח טָהוֹר קֹדֶשׁ: וְשָׁחַקְתָּ מִמֶּנָּה הָדֵק, וְנָתַתָּה מִמֶּנָּה לִפְנֵי הָעֵדֻת בְּאֹהֶל מוֹעֵד, אֲשֶׁר אִוָּעֵד לְךָ שָׁמָּה, קֹדֶשׁ קָדָשִׁים תִּהְיֶה לָכֶם: וְנֶאֱמַר, וְהִקְטִיר עָלָיו אַהֲרֹן קְטֹרֶת סַמִּים, בַּבֹּקֶר בַּבֹּקֶר בְּהֵטִיבוֹ אֶת-הַנֵּרֹת יַקְטִירֶנָּה: וּבְהַעֲלֹת אַהֲרֹן אֶת-הַנֵּרֹת בֵּין הָעַרְבַּיִם יַקְטִירֶנָּה, קְטֹרֶת תָּמִיד לִפְנֵי יְהֹוָה לְדֹרֹתֵיכֶם
Vayomer Ado-nai EL-MOSHE, KAJ-Leja SAMMÍM, NATAF USHJÉLET VEJELBENÁ SAMMÍM ULVONÁ Zakka, BAD BEVAD IHIE: VEÄSITA otah Ketoret, RÓKAJ Ma'aseh Rokeach, MEMULLAJ tahor Kodesh: VESHAJAKTÁ MIMMENNA Hádek VENATATTÁ MIMMENNA LIFNÉ HAËDUT BEÓHEL Moed, ASHER IVVAËD LEJÁ SHAMMA, KÓDESH KODASHÍM TIHIÉ LAJEM: VENE´EMAR, VEHIKTIR ÄLAV AHARÓN KETÓRET SAMMÍM, BABBÓKER BABBÓKER BEHETIVÓ ET-HANNERÓT IAKTIRENNA, UVHAÄLOT AHARNA1 TAMBÉTÁLOTHÉANNÓ, BENOTÁLOTHARI, TAKTIRENNA, UVHAÄLOTAHERNA LADYTENO, UVHAÄLOTHENÓTANNÓ, BENOTÁLOTHERNA, NIPHERA, KETHYPHERE

And the Lord said to Moses, take for yourself spices, balsam, aromatic root and galbanum, spices and pure incense in equal portions And with them you will make incense, perfume work perfume, mixed completely pure of sanctity; and you shall grind it very fine, and you shall put it before the ark of the testimony in the tent of meeting where I will meet with you, holy of holies it will be for you: And it is said: And Aaron will burn on it, incense of spices in the morning, in the morning you will burn it when cleaning the candles. And when Aaron goes up to light the candles, between the evenings he will burn it, constant incense, before the Lord for your generations.

BELOW IS A SELECTION OF TALMUDIC TEXTS TALKING ABOUT THE LAWS REGULATING THE MANUFACTURE OF KETORET.

TALMÚD KETIRÓT 6a; IERUSHALMI YOMÁ 4: 5

תָּנוּ רַבָּנָן, פִּטּוּם הַקְּטֹרֶת כֵּיצַד, שְׁלֹשׁ מֵאוֹת וְשִׁשִּׁים וּשְׁמוֹנָה מָנִים הָיוּ בָהּ. שְׁלֹשׁ מֵאוֹת וְשִׁשִּׁים וַחֲמִשָּׁה כְּמִנְיַן יְמוֹת הַחַמָּה, מָנֶה בְכָל יוֹם, מַחֲצִיתוֹ בַּבֹּקֶר וּמַחֲצִיתוֹ בָּעֶרֶב. ? וְאַחַד עָשָׂר סַמָנִים הָיוּ בָהּ, וְאֵלּוּ הֵן:

TANÚ RABBANÁN, PITTÚM HAKKETÓRET KÉTZAD, SHELOSH MEOT VESHISHSHIM USHMONÁ MANIM HAIU VÁH: SHELÓSH MEOT VESHISHSHIM VEJAMISHSHÁ KEMINIÁN IEMÓT HAHAMJAT I, MANÉ BEVZER MAHABHAMHÁ, MANÉ BEVZERMA BAHAMHATI.USHLOSHÁ MANÍM IETERÍM, SHEMMEHEM MAJNIS KOHÉN GADÓL VENOTEL MEHEM MELÓ JOFNAV BEIÓN HAKKIPPURÍM, UMAJAZIRÁN LEMMAJTÉSHET BE´ËREV IÓM HAKKIPPURÍM, KEDÁZÁVÉKAIAK´t MINIMEKÉKÄKITÁKAIAK´t MELÓ, KEDÉKÄKITÁVADUAK´t

Our sages taught: how was incense mixed? Three hundred and sixty-eight measurements were in it, three hundred and sixty-five, as the count of the days of the solar year, one measurement for each day half a measurement in the morning and the other half of the measurement in the afternoon, and three Remaining measures, of which the high priest carried in his hands and filled his fists on the day of Yom Kippur, returned them to the mortar on the eve of the day of Yom Kippur to fulfill the precept of grinding them finely. And eleven spices were in it, and these are:

(It is recommended to number it with your fingers)

א הַצֳּרִי ב וְהַצִּפֹּרֶן, ג וְהַחֶלְבְּנָה ד וְהַלְּבוֹנָה, מִשְׁקַל שִׁבְעִים שִׁבְעִים מָנֶה. ה מוֹר ו וּקְצִיעָה, ז וְשִׁבֹּלֶת נֵרְדְּ, ח וְכַרְכּוֹם, מִשְׁקַל שִׁשָּׁה עָשָׂר שִׁשָּׁה עָשָׂר מָנֶה. ט קֹּשְׁטְ שְׁנֵים עָשָׂר, י קִלּוּפָה שְׁלֹשָׁה, יא קִנָּמוֹן תִּשְׁעָה, בּוֹרִית כַּרְשִׁינָא תִּשְׁעָה קַבִּין, יֵין קַפְרִיסִין סְאִין תְּלָת וְקַבִּין תְּלָתָא וְקַבִּין וְאִם לֹא מָצָא יֵין קַפְרִיסִין, מֵבִיא חֲמַר חִוָּר עַתִּיק. מֶלַח סְדוֹמִית רֹבַע, מַעֲלֶה עָשָׁן כָּל שֶׁהוּא. רִבִּי נָתָן הַבַּבְלִי אוֹמֵר, אַף כִּפַּת הַיַּרְדֵּן כָּל שֶׁהִיא. אִם נָתַן בָּהּ דְּבַשׁ פְּסָלָהּ, וְאִם חִסֵּר אַחַת מִכָּל סַמְמָנֶיהָ, חַיָּב מִיתָה

1) HATZTZORI,

2) VEHATZTZIPPOREN,

3) BEHAJELBENÁ,

4) VEHA´LEVONÁ, MISHKAL SHIVÏIM SHIVÏIN MANÉ,

5) MOR,

6) UKTZIÄ,

7) VESHIBBOLET NERD,

8) VEJARKOM, MISHKAL SHISHSHÁ ÄSAR SHISHSHÁ ÄSAR MANÉ, 9) KOSHT SHENEM ÄSAR, 10) KI ´LUFA SHELOSHÁ, 11) KINNAMÓN TISHÄ, BORIT KARSHINÁ TISHÄ KABATFRÍN, IEN KARSHINÁ TISHÄ KABATFRÍN TELEBATIS VEBATIS. VEÍM LO MATZÁ IEN KAFRISÍN, MEVÍ JAMAR JIVVAR ÄTTIK. MÉLAJ SEDOMIT ROVA, MAÄLÉ ASHÁN KOL SHEHÚ. RIBBÍ NATÁN HABBAVLÍ OMER: AF KIPPÁT HAIARDÉN KOL SHEHÍ. IM NATÁM BÁH DEVÁSH PESALÁH, VEÍM JISSER AJAT MIKKOL SAMMANEHA, JAIAV MITÁ

1) The balsam 2) and the aromatic root 3) and the galbanum, 4) and the incense, weighing seventy measures each, 5) myrrh, 6) and cassia, 7) and spike of tuberose 8 ) and saffron, each weighing sixteen measures, 9) costus, twelve measures, 10) aromatic tree bark, three measures, 11) cinnamon nine measures. Carcina bleach nine measures (cabín), came from Cyprus, three seín and three cabín. If no Cyprus wine is found, it will be replaced with aged white wine; salt of Sodom, a quarter of a cab and a small amount of Maälé Ashán (plant that made the smoke rise). Rabbi Nathan of Babylon says: We must also add a tenth of amber from Jordan. If you put honey in it, it would become invalid and if only one of these ingredients was missing, it deserves death.

רַבָּן שִׁמְעוֹן בֶּן גַּמְלִיאֵל אוֹמֵר: הַצֳּרִי אֵינוֹ אֶלָּא שְׁרָף הַנּוֹטֵף מֵעֲצֵי הַקְּטָף בּוֹרִית כַּרְשִׁינָא לְמָה היהיא בָאְשַׁפּא לְמָה היהיא בָאְשַׁפּלָא אֶתה היהיא בָאְשַׁפּהלּ. יֵין קַפְרִיסִין לְמָה הוּא בָא, כְּדֵי לִשְׁרוֹת בּוֹ אֶת הַצִּפֹּרֶן, כְּדֵי שֶׁתְּהֵא עַזָּה. וַהֲלֹא מֵי רַגְלַיִם יָפִין לָהּ, אֶלָּא שֶׁאֵין מַכְנִיסִין מֵי רַגְלַיִם בַּמִּקְדָּשׁ מִפְּנֵי הַכָּבוֹד

RABBÁN SHIMÖN BEN GAMLIEL OMER: HATZTZORÍ ENO EL´LÁ SHERAF HANNOTEF MEÄTZE HAKKETAF. BORIT KARSHINÁ LEMÁ HI VAÁ, KEDÉ LESHAPPOT BÁH ET HATZTZIPPOREN, KEDÉ SHETTEHÉ NAÁ. IEN KAFRISIN LEMÁ HÚ VÁ, KEDÉ LISHRÓT BO ET HATZTZIPOREN, KEDÉ SHETTEHÉ ÄZZÁ. VEHALÓ ME RAGLÁIM IAFIN LÁH, EL´LÁ SHE´ÉN MAJNISÍN ME RAGLÁIM BAMMIKDÁSH MIPPENÉ HAKKAVÓD

Rabban Shimon Ben Gamliel says: The balsam is nothing but the sap that drips from a balsam tree. And the carcina bleach, what was the object of it? It was used to refine the aromatic root and beautify its appearance. What is the Cyprus wine brought for? To impregnate the aromatic root in it, so that it is more concentrated. Was not the water of urine better for him? It was not used because it was not entered into the Temple out of respect.

תַּנְיָא רִבִּי נָתָן אוֹמֵר, כְּשֶׁהוּא שׁוֹחֵק אוֹמֵר: הָדֵק הֵיטֵב, הֵיטֵב הָדֵק. מִפְּנֵי שֶׁהַקּוֹל יָפֶה לַבְּשָׂמִים. פִּטְּמָהּ לַחֲצָאִין כְּשֵׁרָה, לְשָׁלִישׁ וּלְרָבִיעַ לֹא שָׁמַעְנוּ. אָמַר רִבִּי יְהוּדָה, זֶה הַכְּלָל, אִם כְּמִדָּתָהּ כְּשֵׁרָה לַחֲצָאִין. וְאִם חִסֵּר אַחַת מִכָּל סַמְמָנֶיהָ, חַיָּב מִיתָה

TANIA RIBBÍ NATÁN OMER: KESHEHÚ SHOJEK OMER: HADEK HETEV, HETEV HADEK. MIPPENÉ SHEHAKKOL IAFÉ LABBESAMÍM. PITTEMAH LAJATZAÍN KESHERÁ, LESHALISH ULRAVIÄ LO SHAMAÄNU. AMÁR RIBBÍ IEHUDÁ: ZÉ HAKKELAL: IM KEMIDDATAH, KESHERÁ LAJATZAIN. VEIM JISSER AJAT MIKKOL SAMMANEHA, JAIAV MITÁ

It was studied that Rabbi Natán says: When he (Kohén) crushed he said: "Pulverízalas finely, very finely", because his voice is good for spices. If he mixed it by half his measure, it could be used, but if he mixed it by a third or a quarter of his measure, we wouldn't listen. Rabbi Judah said: This is the rule: If he made it in its proper proportion, he can use it in half the amount, but if he omitted any of the spices, he will have the death penalty.

תָּנֵי בַר קַפָּרָא, אַחַת לְשִׁשִּׁים אוֹ לְשִׁבְעִים שָׁנָה הָיְתָה בָאָה שֶׁל שִׁירַיִם לַחֲצָאִין. וְעוֹד תָּנֵי בַר קַפָּרָא, אִלּוּ הָיָה נוֹתֵן בָּהּ קָרְטוֹב שֶׁל דְּבַשׁ, אֵין אָדָם יָכוֹל לַעֲמֹד מִפְּנֵי רֵיחָהּ.וְלָמָה אֵין מְעָרְבִין בָּהּ דְּבַשׁ, מִפְּנֵי שֶׁהַתּוֹרָה אָמְרָה, כִּי כָל שְׂאֹר וְכָל דְּבַשׁ לֹא תַקְטִירוּ מִמֶּנּוּ אִשֶּׁה לַיְ1הֹהה>

TANÉ VAR KAPPARÁ: AJÁT LESHISHSHIM OR LESHIVÏIM SHANÁ HAIETÁ VAÁ SHEL SHIRÁIM LAJATZAÍN VEÖD TANÉ VAR KAPPARÁ, IL 'LÚ HAIÁ NOTÉN BÁH KORTOV SHEL DEVÁSH, ÉN LAPÁM LAJATZAÍN. VELAMA ÉN MEÄREVIN BÁH DEVÁSH, MIPPENÉ SHEHATTORÁ AMERÁ, KI JOL LORD VEJOL DEVÁSH LO TAKTIRU MIMMÉNNU ISHSHÉ LAADO-NÁI

He taught Bar Kappará: Once every sixty or seventy years, the accumulated remains reached half the amount of a year. And he also taught Bar Kappará: If someone had put a small measure of fruit honey in it, no one would have been able to resist its aroma. And why wasn't fruit honey mixed in it? Because the Torah says: "Any yeast or any fruit honey will not be burned in a fire offering for the Eternal"

יְהֹוָה צְבָאוֹת עִמָּנוּ מִשְׂגָּב-לָנוּ אֱלֹהֵי יַעֲקֹב סֶלָה: יְהֹוָה צְבָאוֹת, אַשְׁרֵי אָדָם בֹּטֵחַ בָּךְ: יְהֹוָה הוֹשִׁיעָה, הַמֶּלֶךְ יַעֲנֵנוּ בְיוֹם-קָרְאֵנוּ: וְעָרְבָה לַיְהֹוָה מִנְחַת יְהוּדָה וִירוּשָׁלָיִם, כִּימֵי עוֹלָם וּכְשָׁנִים קַדְמֹנִיּוֹת

ADO-NÁI TZE-VAÓT IMMÁNU, MISGÁV-LÁNU ELO-HÉ IAÄKOV SÉLA; ADO-NÁI TZE-VAÓT, ASHRÉ ADÁM BOTÉAJ BAJ; ADO-NÁI HOSHIÄ, HAMMÉLEJ IAÄNÉNU BEIOM-KORENU; VEÄREVA LAADO-NÁI MINJÁT IEHUDÁ VIRUSHALÁIM, KIMÉ ÖLÁM UJSHANÍM KADMONIÓT

The Lord of Hosts is with us, the Gd of Jacob (Sela) is a strength for us. Lord of Hosts, blessed is the person who trusts in You. Lord save; The King will answer us on the day we call him. May the offering of Judah and Jerusalem be pleasing to the Eternal, as in former years.

The Garden of Breslev.

.
---
Selecting an option updates the entire page.
Press the space key and then the arrow keys to select an option.
Use the left / right arrows to navigate the presentation or swipe left / right if you are using a mobile device